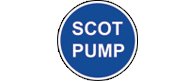 Scot Pumps is a O.E.M manufacturer that specializes in End Suction Centrifugal pumps.  While many of Scot's competitors have a broader product line that encompasses many different types of pumps, Scot has directed its focus on End Suction Single Stage Centrifugals, and boasts to have the best delivery, customer service, and quality in the industry.  By maintaining our focus, we can offer pumps ranging from 3/4″ through 12″, with 1/3 through 150HP motors in 2 weeks or less.  Communication is directly with our inside sales team; trained professionals in centrifugal pump applications, and sensitive to the special needs of the O.E.M.  By maintaining a large stock of machined components and motors,  we can offer specialized products with quick lead times.  All of our products are assembled upon receipt of order, to exacting specifications.
Scot Pumps Product
Scot centrifugal pumps are made from the highest quality castings and components to provide years of trouble free service. They are rugged heavy-duty simple designs for easy maintenance. Scot products perform in a variety of applications including industrial plants, high temperature cabinets, truck mounted, marine environments, outdoor roof top and many other demanding installations.
In addition, Scot has a variety of specialty products for many different applications:
The pumps are close coupled to the electric motors, engines or bearings frames. The pump adapter is directly mounted to the C-face of the driver, and the impeller installs directly on the driver shaft.
Benefits of this design include:
Economy – lower cost by design
Perfect alignment – no troublesome couplings to adjust or maintain
Slipfit O-ring sleeve style – no loctite or heating required to install or remove
Exceptional seal life
Quiet operation
Specify the following trademarked designs for the best in quality and satisfaction: